Wake Park Frymburk
Excitement on top of water
THE PROVIDER OF WAKEPARK SERVICES IS ADVENTURE PARK ČERNÁ V POŠUMAVÍ & FRYMBURK
Web: https://www.adventurepark.cz/
Description: We have the first wake park on Lipno dam, the first cableway for wakeboarding! What you can expect is - loads of fun and adrenaline! To water ski and wakeboard you don't need a motor boat - you get towed by a Wakemaster cable system supported by two pillars. The advantage of the cableway is that the towing can be modified to meet the abilities of the rider. You can choose from water skies, a wakeboard, a wakeskate or an inflatable tube like we use in tubing and enjoy your time on top of water!
And if anybody thinks this is only fun for adults, they are mistaken! Many times the kids outride their parents in "trick riding" on the lake.
We provide all necessary equipment (helmets, life jackets, wakeboards, water skies, wetsuits, etc.).
Difficulty: The wake park is intended for all age groups. Both beginners and professionals enjoy the ride in our park.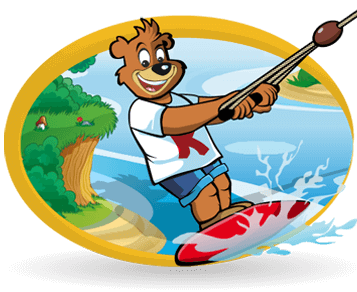 Reservation online or by phone +420 606 317 716
Price list of wakeboarding at: https://www.adventurepark.cz/wakeboarding
Web of summer activities in our Park Frymburk: https://www.adventurepark.cz/vyberte-si-sve-dobrodruzstvi
Facebook: https://www.facebook.com/adventureparklipno/
THE PROVIDER OF WAKEPARK SERVICES IS ADVENTURE PARK ČERNÁ V POŠUMAVÍ & FRYMBURK